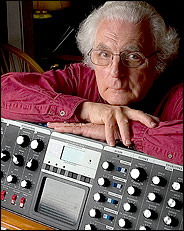 No matter
what kind
of music you like,
Bob Moog
touched it. The inventer of the
Moog synthesizer
was an unintentional architect of electronic music and all its myriad variations. He was
a giant
. If you want to know more, check out the
the
movie
about him. Or listen to this NPR
Fresh Air interview
and here's an
NPR feature
marking his passing. Go put on your favorite: Switched on Bach, Parlament-Funkadelic, Kraftwerk, Electric Skychurch… It's hard to even consider overviewing. Moog's contribution can be heard on literally thousands records. But just for starters there was: 808 State, Abba, Bronski Beat, The Boards of Canada, Devo, Chick Corea, REO Speedwagon, Depeche Mode, Jean Michel Jarre, Kraftwerk, Emerson, Lake & Palmer, Herbie Hancock, Michael Jackson, Chic, Rush, Yes, Gary Numan, The Orb, Pere Ubu, The Prodigy, Pulp, Sun Ra, Nine Inch Nails, Bis, The Shamen, Stereolab, Tangerine Dream, Vangelis, Missing Persons, Kool and the Gang, Steve Winwood, Bernie Worrell, Pink Floyd.
Add yr. own faves and Bob Moog, R.I.P.